TAYLOR CREEK CABINS -- RATES
****************
We are owned and operated by Frying Pan Anglers of Basalt Colorado.
Consequently we are able to offer you a discount on your room rate if you take a guide trip with Frying Pan Anglers.
So check the rates below and note the discounts available in the event that you do take a guide trip while you are staying with us. We do suggest that if you are unfamiliar with our area and want to maximize your enjoyment while fishing, the engagement of a guide will enhance your experience by introducing you to areas you might not otherwise find as well as alerting you to the habits of the fish in our valley. In addition, consider floating some of our rivers with our guides if you have not pre
viously
done so.
Rates for 2012.
For 2011 we will be maintaining the same rates we had for 2010. We will continue to grant a reduction for those taking guide trips. It was a policy which was very well received in 2010.
This coming year we want to increase the benefit of that program as well as encouraging more off-season traffic. We also want to encourage more ski traffic so we are modifying our rate structure to accommodate these changes.
We will be having 3 seasons.
1. Ski season rates.
2. Off season rates.
3. High Season rates.
| | | |
| --- | --- | --- |
| Ski Season | General Rate/night | Rate with Guide Trip |
| Cabin | $160 | $145 |
| House | 275 | 255 |
| | | |
| Off Season | | |
| Cabin | 170 | 150 |
| House | 280 | 255 |
| | | |
| High Season | | |
| Cabin | 200 | 175 |
| House | 330 | 290 |
Ski Season.
The Season will be from Thanksgiving 2009 to the end of the second week in April.
It can be any guide trip.
Off season.
Off-season will be from the beginning of the third week in April through to the 30th June and from the beginning of October through to Thanksgiving.
The guide trip will be a minimum of a single person full day wade or a 2 person half-day wade.
High season.
High-season will be from the 1st of July 2010 through to the 30th September.
The guide trip will be a minimum of a single person full day wade or a 2 person half-day wade.
Further Accommodation.
In addition to the Accommodation. noted above we have opened up Cabin #5 at Taylor Creek cabins. It is a small cabin which ideally suits either one person or a couple. Robyn has separate details for that cabin so send an email and she can provide that information.

Deposit Policy and cancellation policies.
A booking deposit of $100 will be payable for all bookings for cabins. It is non-refundable.
Please note our cancellation policy below requiring 28 days notice otherwise you will be liable for the full rate with a refund being applied to you in the event that the cabin can be re let for the period in respect of which you cancelled.
If however you book more than one cabin, the cancellation policy will apply requiring 40 days notice. We have had a number of occasions where several cabins have been booked in anticipation of a group coming out but before the numbers are confirmed. Inevitably the group has reduced and a cabin has remained empty.
A booking deposit of $200 will be payable for all bookings for the house. It is non-refundable.
****************
If you want to bring your dog that is fine provided there is only one dog and it is not too big or dangerous. If your dog is marginally bigger than a squirrel, please discuss it with us in advance. It is also extremely important that your dog is under control and well behaved. In the last year we have instances of people saying their dog was well behaved, that was until it attacked another dog and tried to eat it. We had someone leave a dog unattended in the cabin and it broke a window getting out and was last seen running down the road after traffic. Another person left a dog alone in a cabin and it howled for hours disturbing the neighbors. So there are a number of things to consider if you want to bring your dog. In addition, there is an additional daily charge of $20 per dog per day.
Please refer to our terms for all information relevant to staying at the cabins.
Cancellation Policy
Where bookings are cancelled within 28 days of the arrival date you will be liable to pay for the whole booking. However if we are able to book the cabin or house to another person the amount payable by you on cancellation will be reduced by the amount received for the rebooking. This also applies in the case of multiple bookings of cabins and/or the house and you cancel one of the cabins or the house but continue with the other booking.
*************************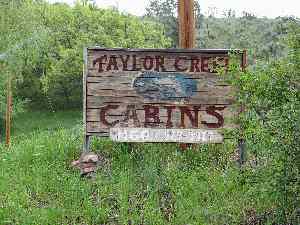 ---
phone: 970-927-9927 email:
Looking for cabin rental in Colorado? Please contact us about our Taylor Creek Cabins -- some of the most attractive Colorado cabin rentals you will find anywhere.
Also perfect for those seeking family accomodation if you are skiing Aspen and Snowmass. Just a short drive to 4 great ski mountains. And if Dad gets tired and wants a day fishing while the kids ski, fishing is right out the door.